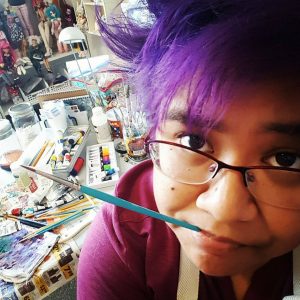 Katherine Valdoria (b. 31 August) makes stuff. Mostly "art." Sometimes noise. Always fun.
This is her detritus of half-baked projects. In addition, she delights in curating her personal collection of dolls and miniatures, bemoans her sporadic reading habits, and is a hula hoop enthusiast.
On 3 October 2009, Katherine married Benjamin "For The Win" Peterson in a lavish rock-and-roll ceremony, which left many people full of music, food, and booze, and a handful of people questioning the legality of their union.  Katherine and Benjamin currently live with their Welsh corgi, Science, in San Jose, California.
If you need to contact her, she's accessible via direct message on the bookFace, Twitter or Instagram.
She does not usually make a habit of referring herself in third-person.