The Fantastic Adventures of Unico: Katy the Kitty Witch, again (2019)
(photos pending)
This year, I revisited the character of Katy the Kitty Witch, but from the Anime. I made a cute little Unico Marionette to go along with it, this time, which made performing this character extra fun.
Super Mario Super Show: Mario (2019)
Ben had a fantastic time recreating Captain Lou Albano's version of Mario from the Super Mario Super Show! This was one of my favorites of his cosplays because he really got into character and danced and sang "The Mario" with any fan who asked. We passed by this sign at Mattarello's Cooking Lab downtown and could not resist. Word to the wise: they have THE MOST LEGIT tiramisu. Mario highly recommends it.
Seven Deadly Sins: Diane (2016)
It's been a goal of mine to cosplay with one of my ball-joint dolls, and this year I finally did it. I made a King costume for Molly and dressed up as Diane. It was my first time making an EPS foam weapon, but it was pretty fun! I learned a lot, and I'd do it again.
I was very surprised that there weren't more 7DS cosplayers in attendance, but I was stoked to at least run into a King cosplayer.
Tiger Electronics: Pinball Wizard (2016)
Ben chose to recreate a 1987 Tiger Electronics handheld pinball game. Then he took it a step further by adding a wizard's hat and declaring himself a "Pinball Wizard." He did the bulk of the work, while I mostly just advised on minor aesthetics, application, comfort, and maneuvering. While it wasn't actually playable as originally desired, it did include an animated game screen. The final product weighed 50lb and, while at the convention, usually took both of us to get him in and out.
Amazingly, someone actually recognized him from his earlier Roger Wilco cosplay! Also, for future reference, if you are going to walk around as a so-called Pinball Wizard, know the lyrics to the song.
Star Wars/Beauty and the Beast: ReyXBelle (2016)
My sister ran the Disney Star Wars Dark Side Half Marathon and requested a costume crossing over her favorite Disney heroine, Belle from Beauty and the Beast, with Rey from The Force Awakens. To emphasize her Belle-ness and because running a marathon with a staff would be unwieldy, I made her a book that also doubled as a water bottle.
Space Quest: Roger Wilco (2013)
Ben wanted to dress as Roger Wilco from one of his favorite childhood video game series, Space Quest. I made the vest and insignia, and helped him clean up his light up mop concept. On the first day of Comic Con, Ben was not expecting a lot of recognition, and so was bewildered when a man eagerly pulled him over to a booth for photos. Turns out, the Two Guys from Andromeda, developers of the original series, were there promoting their newest title, SpaceVenture!
Later, we found ourselves on the actual set of Ender's Game, where Roger Wilco took a little nap on the space station.
The Fantastic Adventures of Unico: Chao/Katy (2013)
The Fantastic Adventures of Unico is one of my all-time favorite animated features. As a child, I wondered how Katy the Kitty Witch's bow stood straight up in the air. As an adult, I wonder why a cat would starch a bow.
I don't have any pictures really featuring my costume because I'd procrastinated and it's not as accurate as I would have liked it to be. I chose to depict her manga version. Also, I was amused at how many people assumed that Ben and I were dressed "together" with him dressed as a Space Janitor. If I'd had the foresight, I'd have replied that we were cosplaying Chrono Hygienics, a little-known spin off from Chrono Trigger about a time-traveling crew of janitors who clean up after video game battles.
I had pretty low expectations for recognition, so I was happy to be identified correctly three times. I was incorrectly identified as Kiki from Kiki's Delivery Service a little bit more than that. :P
The FP: JTRO (2012)
For those of you not in the know, The FP is perhaps one of the best worst movies ever made. To summarize: in a post-apocalyptic future, gang conflicts are settled by games of Beat Beat Revelation (Dance Dance Revolution). Its awfulness is transcended only by its hilarious absurdity. Watch the first ten minutes on YouTube. Whether you love it or hate it, you can be certain the rest of the movie is of that exact same caliber.
Ben dressed as the film's protagonist. I'm not any particular character, but instead dressed in the spirit of the movie. Photo of both of us courtesy of JuatCast.
Portal: A Companion Cube Hobo (2011)
Ben posed the question: "What's the most horrible interpretation of Portal that you can cosplay without being kicked out of a convention?" The answer was clearly to wear a Companion Cube as some sort of postapocalyptic bankruptcy barrel.
The Companion Cube Hobo is featured in the following music videos:
Adventure Time (2010)
Left: The creator of Adventure Time, Pendleton Ward, posing with the Jake plushie I made (before they started popping up all over the place). Middle: Double Lady Rainicorn! Right: Me and Ben, courtesy of this frederator blog post. One cool thing about this particular year of con was that the title card artist for the show actually mistook us for official Cartoon Network folks while we we were roaming the floor.
Wario and WaPeach (2008)
Ben wanted to dress as Wario and wanted me to complement him as "WaPeach." I was pretty shy about doing it and wasn't nearly as well-recieved as he was (given that WaPeach isn't a real character and Ben was to Wario what Heath Ledger was to the Joker), but it was the beginning of our adventures in cosplay together. We showed up in Wired and the Best Costumes of Comic Con at Yahoo!Movies.
Wicked Witch of the East (2007)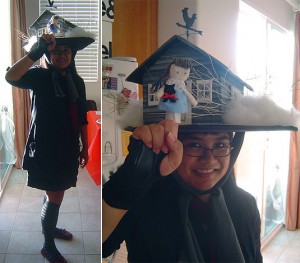 It's technically not a cosplay, but this was the costume I was wearing when I first met Ben at the combination Housewarming-Halloween party my then-housemates and I threw. I guess I made an impression, because he married me and we've been doing geeky things together ever since.